MTPA-2401SRZPA
Piezo Assist Stage
Drawings and dimension (Units: mm)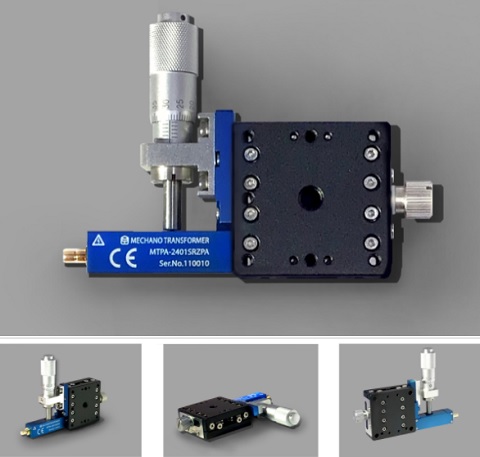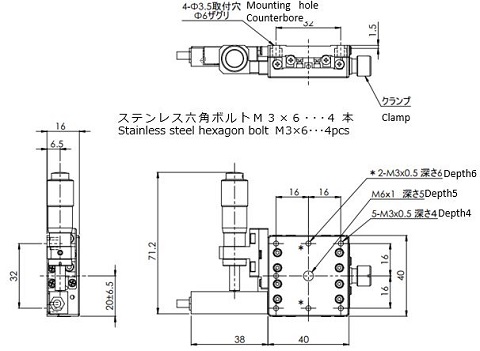 Specifications
| | |
| --- | --- |
| Table Size | 40x40mm |
| Course Drive Travel | ±6.5mm |
| Fine Drive Travel | >30μm |
| Micrometer position | Side |
| Movement per Rotation | 0.5mm |
| Micrometer Readable Resolution | 0.01mm |
| Fine movement minimum resolution | <20nm |
| Guide | Ball Bearing guide |
| Primary material | Aluminum |
| Finish | Black Anodize |
| Load capacity | 9.8N (1.0kgf) |
| Travel accuracy/Straightness | 3μm |
| Max. Moment Capacity/Pitch | 2.5 N·m |
| Max. Moment Capacity/Roll | 2.5 N·m |
| Moment Stiffness/Pitch | 0.66"/N·cm |
| Running Parallelism | 10μm |
| Mass weight | 0.16kg |
Caution
Please handle the micrometer bracket with caution during the setup of the stage. If any shock occurred, the Piezo Assist mechanism may be damaged.
When the power of the Piezo Assist controller is being switched OFF, there will be changes on the position adjustment of Piezo Assist, causing fine adjustment position alignment changes.
Please make sure to lock the stage when moving/carrying the Piezo Assist Stage. Moving/Carrying the Piezo Assist stage may cause damage to the Piezo Assist mechanism.