WTC-600-40, WTC-1200-40 photoelectric activation provides easy, hands-off operation.
Table-top Cleaners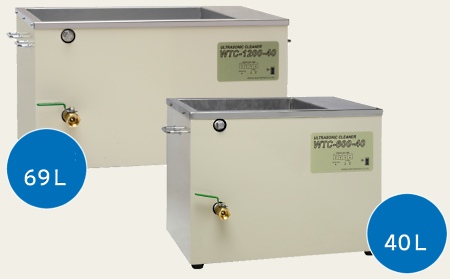 WTC-600-40/1200-40
Features
All-in-one large tank unit is suitable for large equipment or parts.
No-touch operation by optical sensor and speech guidance assist the .
No need to touch the buttons with wet or greasy hands for operation.
Automatic frequency tracking to the set value.
Stable cleaning power and Alarm function for output error.
Overflow drain hole is equipped.
Easy to build the water circulation system using the drain cock for dischargring water and the mounting hole for overflow.
Applications
For electric, electronics industry, PCB, LCD glass, IC, Wafers, Magnetic
Food and Drug industry, Laboratory equipmentFood
Manufacturing parts, Glass bottles
Medical equipment, surgical devices
Generator Specifications
Model Code
WTC-600-40
WTC-1200-40
Oscillation Mode
FM + AM
Output Power (peak power)
600 W
1200 W
Output Frequency
40 kHz
Transducer
Bolt Clamped Langevin transducer
Power Source
AC100V 50/60Hz
AC200V-230V 50/60Hz
Power Consumption
300VA
600VA
Timer
Digital Timer: Operation for 10 min/20 min/30 min/continuous
Inner Tank Size (mm)
400x350x272 (36L) (SUS304)
610x400x268 (69L) (SUS304)
Outer Tank Size (mm)
600x410x472 (except the handles and rubber feet)
800x460x472 (except the handles and rubber feet)
Weight (kg)
28
40
Power Cable
3.5m
Max. Liquid Temperature
80oC
Operation Switch
ON/OFF by the photoelectric sensor
Drain
Rc 3/4 valve
Rc 1 valve
Optional Parts for WTC-Series
Cleaning Baskets
Part Number
Related Model
Size (mm)
Material
Appearance
KG08
WTC-600-40
L=350 x W=310 x H=210
SUS304
KG09
WTC-1200-40
L=550 x W=360 x H=210
SUS304
Lid
Part Number
Related Model
Size (mm)
Material
Appearance
FT05
WTC-600-40
440x390x1.2
FT06
WTC-1200-40
650x440x1.2
Rack
Part Number
Related Model
Size
Material
Appearance
DA01
WTC-600-40
593x403x250
Polypropylene (PP)
DA02
WTC-1200-40
793x453x259
Polypropylene (PP)
Throwing-in heater
Part Number
Related Model
Size
Note
Appearance
NH01
WTC-600-40
D=140xL=735
1kW - 2.0kg
NH02
WTC-1200-40
D=140xL=735
1.5kW - 2.1kg
How to order
If you need a specific quote, please request so by sending us an e-mail through "Request for Quote" by refering to the following part number or by calling us at 814-861-5688 (8:30am to 5:30pm EST). You can also directly place an order by calling us with your credit card information or sending us a Purchase Order form.
WTC-Series Price List
| Article | Part Number | Price |
| --- | --- | --- |
| WTC-600-40 Cleaner Device | WTC-600-40 | $ 3,845.00 |
| KG08 Cleaning Basket for WTC-600-40 | KG08 | $ 215.00 |
| FT05 Lid for WTC-600-40 | FT05 | $ 85.00 |
| DA01 Rack for WTC-600-40 | DA01 | $ 245.00 |
| NH-01 Throwing-in heater for WCT-600-40 | NH01 | $ 465.00 |
| WTC-1200-40 Cleaner Device | WTC-1200-40 | $ 5,780.00 |
| KG09 Cleaning Basket for WTC-1200-40 | KG09 | $ 310.00 |
| FT06 Lid for WTC-1200-40 | FT06 | $ 140.00 |
| DA02 Rack for WTC-1200-40 | DA02 | $ 340.00 |